We had our very first Home Stew party yesterday! What is Home Stew?  Well it's a group of people who want to eat better – we meet, eat, share recipes and blog about what we're learning.  We'll have a blog up soon, but we're still getting the pieces in order.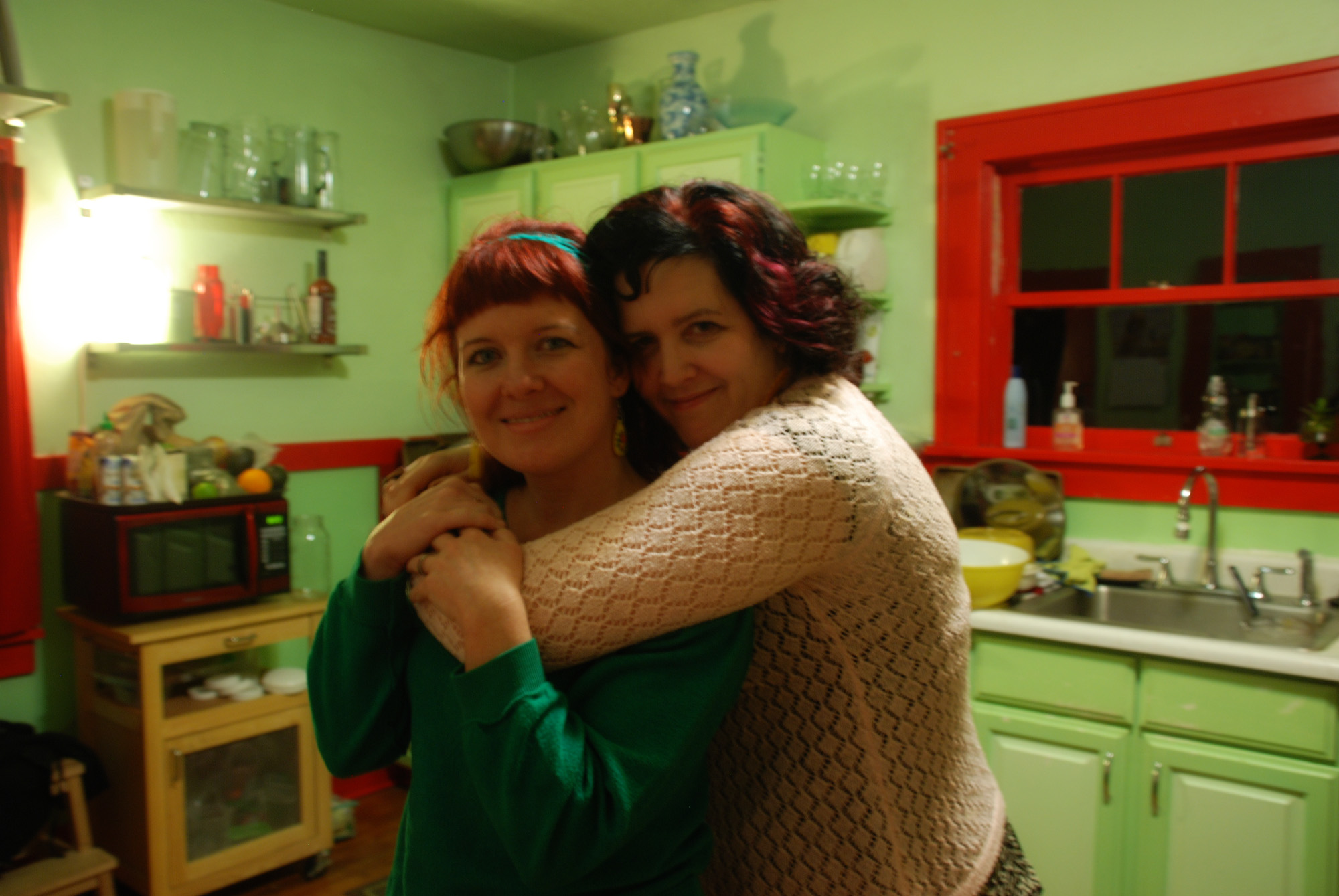 Hugging Julz Nally in my kitchen. Julz is one of our Home Stewies.
Photo by Jena Coray.
For our first party we asked everyone to bring something that represents themselves or something they love. Of course I made Mexican food, because it's always been my favorite and it's really my family's favorite too – my hubby and son and I eat Mexican food at least two times a week every week and we don't get sick of it.
I decided to make a rice bowl with veggie pinto beans, an avocado-corn salsa and cilantro rice for a few reasons:
1. It can be turned into so many different dishes: add tortillas it's tacos, chips and it's nachos, nothing and it's a bowl.
2. It's a dish that many people with food restrictions can still eat: vegetarians, lactose free, gluten free, etc.
The way I served it was in a warming tray so that each person could make the dish as they pleased.
VEGETARIAN MEXICAN PINTO BEANS
the super rad tasty kind.
YIELD 3 quarts
INGREDIENTS
3 tbs olive oil
2 large onions, chopped (I put half of my onions in my Vitamix for one quick whirl, so that I had different sized bits of onion).
2 jalapeno chiles, stemmed, seeded and minced.
1 tbs minced garlic.
1/2 tsp of Mexican oregano.
6 cups of water.
2 cups dried pinto beans (soak 'em the night before and drain them before using).
1 cup of chopped tomatoes.
3 tsp of salt (I salted it once in the beginning, once half way through and once at the end – 1 tsp each time).
1/2 cup chopped green onion tops.
1/3 cup cilantro stems, chopped.
PREPARATION
In a large heavy saucepan or small Dutch oven, heat the oil until hot. Add the onion and chiles and saute until soft, 4 to 6 minutes. Add the garlic and oregano and cook, stirring, for 2 minutes. Add the water and tomatoes and bring to a boil. Reduce heat to a gentle simmer and cook, stirring occasionally, until beans are beginning to get tender, usually 30 to 40 minutes.
Add the salt, green onion tops, and cilantro stems and continue to cook until beans are tender but still hold their shape, 45 minutes to 1 hour longer. Serve hot. Note: beans are even better made a day ahead and reheated gently before serving.
______________
AVOCADO-CORN SALSA
of the delicious variety.
INGREDIENTS
YIELD 2 1/2 cups

3 small to medium ripe, peeled, seeded, and finely diced
2 cup fresh or frozen corn kernels
2 medium tomatoes, seeded and finely diced
1/2 cup of chopped green onions
2 to 3 tbs fresh-squeezed lime juice
1 tbs finely-chopped fresh cilantro
1 seeded, stemmed, minced jalapeno
1 tsp sea salt
PREPARATION
In a medium bowl, gently combine avocado, corn kernels, tomatoes, green onions, lime juice, cilantro, chile peppers, olives, and salt. Cover and refrigerate until ready to be served.
______________
CILANTRO RICE
simple, light tangy-goodness.
INGREDIENTS
2 cup brown rice
1 cup fresh cilantro
Zest of 2 lime
Juice of 2 lime
2 tbs extra-virgin olive oil
4-6 cloves fresh garlic, minced
1 tsp sea salt
PREPARATION
In a medium saucepan over medium-high heat, bring 1-1/2 cups of water to a boil. Add in the rice and salt, mixing well. Cover and allow to cook until water is absorbed and rice is tender, 18-20 minutes.
In a food processor or blender add cilantro, lime juice, lime zest, olive oil, garlic and 2 tablespoons water. Blend until smooth. Stir the mixture into cooked rice and fluff with a fork. Best served warm.
Once I made all these yummies I layered the rice and bean, then I added Queso Fresco cheese. Next I added the avocado-corn salsa.  I served mine with Corn Chips and cucumbers on the side (cucumbers are a great tool for dipping when you're grain free).
This is the sort of dish that's perfect to make on a Sunday and have in different combinations during the week for lunches and dinners.
Enjoy!
Comments
comments