My family and I recently went on a week long vacation to the Redwoods in a rented RV. We rented a 31′ Forester from RV Northwest. It was so much fun and I want to tell you about it.
My 6'3″ husband dwarfed by a tree in the Redwoods.
It's not the vacation that I want to share with you, but the experience of RVing.
I think the biggest takeaway happened the few days that we weren't hooked up to anything. When you're RVing you must empty the grey (used water) and black (excrement water) tanks periodically. You also need to hook up to electricity and water. Actually, you don't need to hook up to electricity; you can use the generator, but that is more gas and/or propane used, so we tried not to overuse electrical and plugged in where we could.
We tried not to overuse anything, but it was hard not to. The biggest takeaway from the experience is that we use a lot of resources and that we create a lot of waste, just in our house, or in this case in- our RV. I never really realized the extent of the waste we create, but when we were not hooked up to water and electric, we washed dishes in really dirty cold water and found that mostly the water could get much dirtier than we were used to and still we could get the dishes clean.
The grey water tanks needed to be emptied the most of any of the tanks.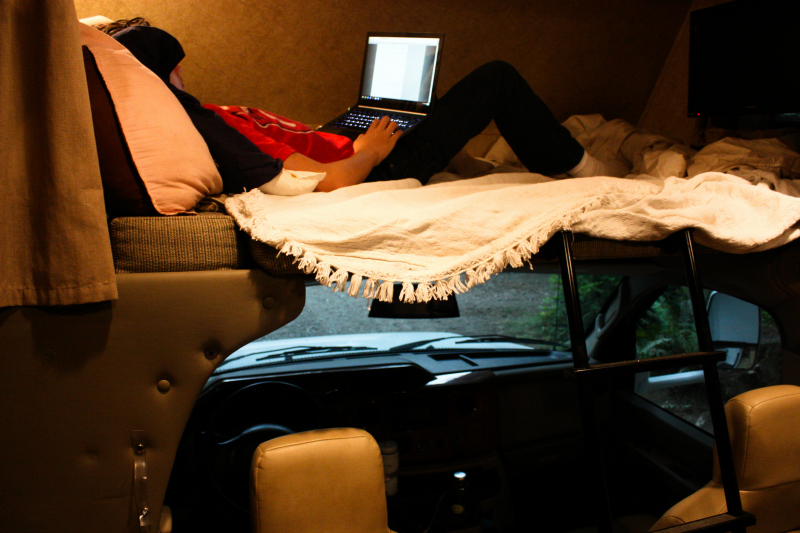 My son in the loft over the cab of the vehicle.
This feeling of conserving was echoed in the size of our trailer. It was a big trailer, but when you're used to living in a pretty big, three story house (including our basement, which is finished) it was super tiny and we managed just fine. We had enough room. We had much less and that felt good.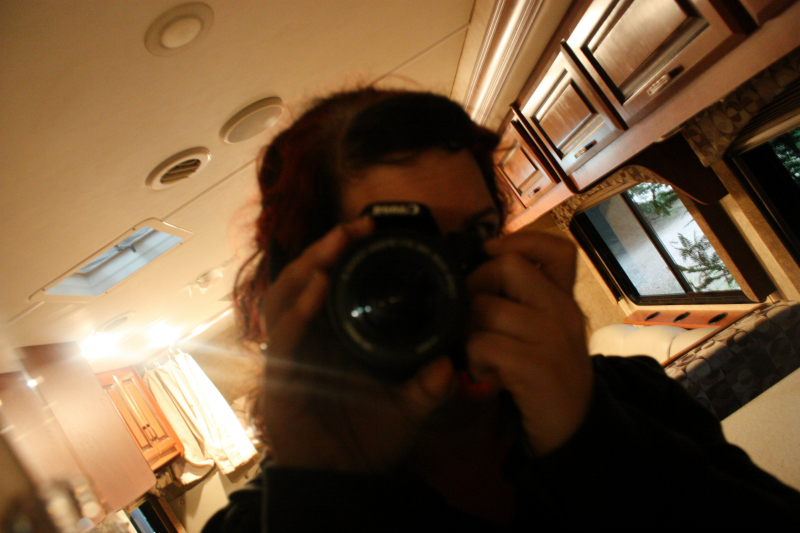 Me. You can see some of the interior from this shot.
I never struggled over what to wear because I only brought my fave ten or so most comfortable outfits.I didn't have to look high and low for things, like I do in my big house. Everything had a place. Everything fit.
The takeaway was that we can live with less and it actually feels just fine. No, it actually feels calmer to have less.
Practical thoughts on RVing.
The speaker system outside of the RV.
What we loved:
1.Crazy Fun There is really nothing like rolling down the highway laying in a bed while your spouse drives you around. Or being able to wake up, comfortably drink coffee in your vehicle and then drive away to a new destination. There are so many reasons why RVing is fun. The small scale and luxury features totally up the fun factor.
2. Alternative Travel & Close To Home It's a great way to travel especially if you have a lifestyle that might not travel as well, by which I mean: if you have food allergies and want to cook most of your meals (like we did), or maybe if you have a family member who needs to stay close to home for some reason – it's great for that. If you have a fear of flying, it could be a good mode of transportation or a great alternative way to travel with nervous dogs. Really, it's a great way to travel for anyone, but for some populations it might be the easiest way to travel.
3. The Sound Systems! This gets its own individual shout out because I had no idea the music systems inside and outside the vehicle would be so good! There were speakers everywhere inside the RV and you could adjust them so that you could either hear music just up in the cab or in the back living area or both! Now that's all well and good, but the really impressive part was the outside sound system. It was a small locked box on the outside of the RV and you could hook your iPod or whatever up to it as well!
We were bumping on all levels most of the trip – sound-wise and physically rocking around while driving.
This brings me to what we might try to do differently if we rent an RV again.
What we would do differently:
1. Bumpin' I would compare the level of being jostled in an RV to that of mild turbulence. I expected to bump around a little, but when you aren't in the front cab the bumpiness can get a bit intense. I think if we were to do an RV trip again I might bring some medication for motion sickness. I normally never have issues with motion sickness but on the RV, the constantness of it made me wish for breaks from feeling a bit dizzy.
2. Your Size Matters I would have brought a step stool. I am 5'8″ and in my regular life I never have to ask anyone to get anything for me because I'm not tall enough, but on the RV the biggest, deepest cupboard we had that we were using as our pantry was just too high for me. I had to ask my guys to help me retrieve a number of items from the pantry. I think anyone under 5'10" would need a step stool in one of the larger RVs like we had.
3. Smooth Route I think we would have chosen a destination that didn't have as many skinny, windy roads if we were to do it again. We made it to the edge of the Redwoods which is only 5.5 hours away from Portland. Did you know that fun fact? It's true! You can be there in a one day drive! But in our HUGE RV we weren't able to get in as deep as we had hoped to because we didn't like the way it felt driving on those windy roads. For my husband who was driving, the windy roads were stressful and for us, we were running around and reclosing cupboards which periodically popped open, or feeling woozy from the windy drive.
4.Have Car Will Travel We would also probably try to have a car that we could take out on day trips so that we wouldn't have to rely on the RV for getting us everywhere.
I think I'm at least a little over my RV fantasy. It was fun and I could see owning a trailer that you pull behind a car, maybe a smaller one, but I don't need an RV.
All in all, it was a fun. It was a good trip for reminding me that I have so much and it made me want to take better care of my things. It helped me see that I can live with less because it's less stressful to have less and that I could waste less.
This month that's what I'm putting my energies into. Reorganizing and deciding which possessions have a place in my life and which don't.
I think an RV trip is something everyone could benefit from doing at least once and maybe if you do, this post will help you make the decisions that are right for you.
It's been a GREAT summer.
Comments
comments