It first started a few months after I changed my diet.
My skin had a rosiness that I hadn't seen since I was a kid. Then, a few months after that, I realized that lines in my face were diminishing.
I thought, "Do I look younger and healthier?"
Then, as I made more and more changes to my lifestyle, my skin started to have this radiance to it.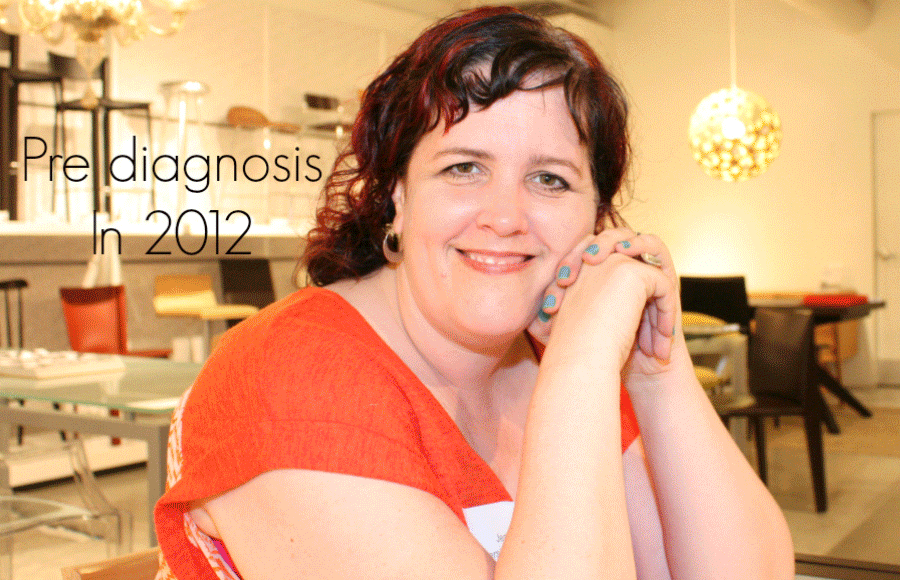 This is what my skin looked like a year ago. This is what eating foods you are sensitive to can do to your skin. But I have my good skin back now with dietary changes, exercise and my face washing regime.
Nowadays I hear about it from others, almost weekly.
People say things to me like:
"Last time I checked you were five years older than me, but you'd never know it by looking at you. You seem to be getting younger. Jen, what's your secret?"

How your skin appears is a multi-dimensional thing that depends on how you take care of your skin, sun exposure, how you eat, how hydrated you are, what your stress levels are like and what genes you were born with. Face washing isn't very effective if your diet is terrible, or if you work 55 hours a week at a stressful job. If you're not taking care of yourself in these areas, it will most definitely affect how your skin looks.
I cannot impress upon you enough the importance of what you're putting in your body and how much this affects your skin. There isn't room in this post for all that I'd like to cover so I'll follow up this post with another one regarding how to have youthful skin from the inside out.
Today, this post is focusing on the easiest thing I do to keep my skin healthy and vibrant looking – my skin care routine and the science behind it.

I'm at that age where we all start to get some lines, wrinkles, sun spots, etc.
I'm getting them too, but for my age, I'd say they are very minimal and there's a reason for this. I'm about to share why and how my skin looks younger than it did a few years ago.
Most of the time I wear no makeup and when I do I never wear concealer, foundation or powder. When I tell people this they are surprised, but I'm going to tell you how I'm doing this so you can do it too if you're interested.
When I turned 40 a few years ago I noticed there was a dullness to my skin that had never been there before. There were bags and dark circles under my eyes. My skin felt so dry and old all of a sudden. Then I was diagnosed with Celiac disease at 41. From there I've been working backwards with the aging process.
My Secret Weapons
When I was around 40, my friend Beth turned me on to the Clarisonic – if you don't know what this is, you MUST read about it. I'm not going to turn this post into an ad for their product, but the thing I'll say is that it's as good as having a facial daily. There is no home system that removes dirt and oil from the pores and hair follicles and makes your skin as soft as the Clarisonic.
I used to use Cetaphil for washing my face, but more recently I've decided I'd rather not use products on my skin with ingredients that I can't pronounce and that are unfamiliar to me. Cetaphil might be mild, but it's also full of random chemicals and I'm working on as much of a body detox as I can muster. Hundreds of chemicals a day from my daily routine no longer fit my lifestyle, but even more than that:
I really don't want to support the beauty industry as much as possible. I don't want to NEED their beauty care systems. I don't want to buy into their false advertising. I don't want their chemical-made beauty products. I don't think I need them for my health or beauty.
And like Lily Allen says: It's Hard Out Here (For A Bitch), but the chemical-free, simple skin care routine that I'm about to lay down will make it a little easier.
Nowadays I use oil to wash my face and I've never been happier with the results.
I have dry, sensitive skin that rarely gets pimples, but is prone to itchiness and rashes. My son has very oily skin and he used to have pretty bad forehead acne, but we've mostly taken care of that now. The method we use for washing our faces is almost the same and works wonders for our different skin types.
When we wash our faces we use jojoba oil. We have chosen jojoba oil because it closely mimics the natural oils in the body called Sebum so there is a lower risk of allergies from using it. Jojoba oil is so similar to natural skin oils that the skin takes the oil deep into the pores, which helps with hydration. Jojoba oil has a hydrating effect on the skin that lasts for hours after application. How many face cleaners also hydrate? I'm guessing very few.
Jojoba oil is also great for those with acne because the jojoba tricks the skin into believing it already has the sebum it needs, while unplugging pores and reducing natural oil production.
Acne is caused by three things: bacteria, excessive sebum production, and skin cells that are not exfoliated properly. The anti-bacterial properties in jojoba oil fight infections and other inflamed skin and discourage future bacterial growth, such as Staphylococcus aureus, Staphylococcus epidermis and Propionibacterium acnes – the various bacterias responsible for acne. This is the reason jojoba oil is so effective against acne. It replaces the over production of sebum with anti-bacterial oil, which fights the bacteria causing the acne. Jojoba oil has anti-inflammatory properties and can help bring down any swelling caused by acne or rashes on the face.
Jojoba oil is also an anti-oxidant which helps rid the skin of free radicals and aids in overall skin health.
Here's my skin care process:
1. I put water and jojoba oil on a washcloth.
2. I wash my face with it.
3. I wet my Clarisonic with water.
4. I lightly move the Clarisonic around my face, neck and chest.
5. I wipe away excess moisture.
Face washing and moisturizing done! This whole process takes less than 2 minutes.
This is what my skin looks like today. Can you even believe that it's possible? I'm still shocked regularly and often by the radical changes to my skin. Diet, exercise and washing with oil are better than any skin care products you can buy.
I don't buy expensive skin products. I don't pay for expensive skin treatments. Sometimes I add a little coconut oil around my eyes and sometimes I forget.
I forget to wash my face entirely at least 1-2 days a week and I don't fuss over my skin at all. I do a fast 2 minute washing/moisturizing when I remember. I use coconut oil at night, when I remember, until the next time I forget.
The biggest expense of my routine is the Clarisonic. The good news is it's a one time cost (other than the brush heads, which I replace two to three times a year – I can find brush heads online for less than $10 a piece and I usually stock up).
In my house, my son uses the Clarisonic too. I just buy a separate brush head for him to use.
He also uses the same skin washing technique. The only thing we add to his routine is Witch Hazel, which also helps with inflammation, and acts as a skin toner too, and we remove some of the jojoba oil so his skin isn't too oily.
So that's the short answer (I know, not short at all) to my "secret to good skin." Will you try to wash your face with jojoba oil? Do you have a Clarisonic? Do you love it? If you give this a try let me know what you think!
Comments
comments