I write quite a bit about getting healthy, and so often it's from the perspective of diet and exercise.
Today, I want to talk about friendship as a means to good health and, more specifically, meaningful relationships we make as women with other women.
A few days ago I got together with a handful of ladies. We've been getting together for the last year or so. We call ourselves the Firestarters because when we first started meeting we were reading through the Firestarter Sessions, which is a book written by Danielle LaPorte. If you aren't familiar with Danielle or her book, it's essentially a book meant to identify the life you are looking for so that you can manifest it, with tons of exercises to help you access your dreams.
The book is great, but these ladies are even more great. In these photos we're making vision boards. We're now reading The Declaration Of You by Michelle Ward and Jessica Swift and the vision board was a suggestion from their book.
I didn't make a vision board. I was the only one who didn't. I've made plenty in the past, but not this time. I just wanted to spend my time with these ladies.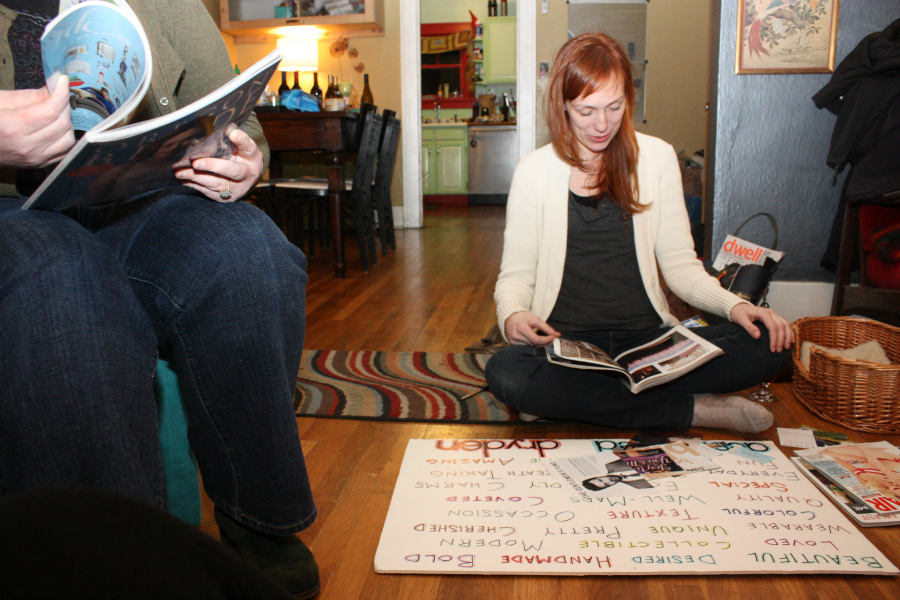 I love to spend time with funny, authentic, creative people and each of these women is this type of person.
There is something about spending time in small groups with other women that is so good for the soul. The laughter, the support, the shared experiences, the camaraderie – it's all so good for you.
There is even evidence to support that people who have larger networks of friends live longer than those who don't.
Then there are the potential networking and business resources that are possible when you have a larger friend base, also a great asset to have.
Speaking of groups of women and networking, I'd kick myself if I didn't tell you about this event that I'm speaking at in a couple of weeks called Urban Campfire. It's a candle-lit dinner party, with speakers and dessert, that is intended to help women share their goals and fears while making a few new friends and business contacts along the way. The intention is to provide the spark for women to experience sweet moments of inspiration, both business and personal, through joyful kinship and conversation.
This event is happening March 5th. If you're interested in attending, I have a coupon code that you can use to save $25 off of your ticket price. Get your ticket for only $70 (original price $95) just for being my friend! Enter code JENN at checkout. Learn more here.
My talk is called "A funny feeling, a health catastrophe and the path to GREAT healing." I'll also being singing and playing my ukulele, because it's a campfire after all!
Shout out to Kari Chapin for hooking me up with this speaking gig (See? Having a wide variety of friends really does create awesome opportunities in your life!)
I'm really excited to speak at this event. I have emceed events in the past. I've hosted and facilitated at a number of events, but I've never had the opportunity to share my story in a larger group dynamic before. I've dreamed of speaking about my healing journey and playing music too. This is really a dream come true for me. It would be wonderful for me to have some friends in the audience, and it would also be great for you to attend for YOU as well. Whether it's life, business or both that you're navigating, who couldn't use a little more support? I think this event will have valuable information in all of these areas.
Hope to see you there, and wish me luck!
Comments
comments