This is part 5 of a series of posts that I've writen: Part 1, Part 2, Part 2.5, Part 3, Part 4 and today's post.
This post was delayed a few days due to snow and my house running out of oil heat. I spent days trying to figure out heat sources, but we got it all figured out and I'm back to talking about health, like I do.
This just in, I have no amazing insights. I'm not feeling particularly inspired. I'm feeling something between glad to be done with the sugar detox and frustrated with so much of the food that exists ready-made in grocery stores and restaurants.
I'm eating more "regular" food. I'm defining regular food to mean food that I didn't make every bit of from scratch and foods that more than likely have a small amount of sugar and/or grains (gluten free of course). Although I don't feel horrible, I don't feel as good eating regular food.
Having said this, I am still preparing the majority of my food and I think it's the reason I'm doing alright. Not as great as I was a week ago, but I'm fine.
I used to wonder what was wrong with me. Why I felt weird, sort of icky, most of the time. Why my belly was always sticking out and so bloated. The only way I could shrink my belly was to stop eating, but I was hungry all the time so I HAD to keep eating. I wished for an easier life with food. I wished I didn't have to eat, or like I mentioned before, that I could just consume protein pills and be done with food and consumption.
I still wish for an easier life with food, even though I now know what is "wrong with me."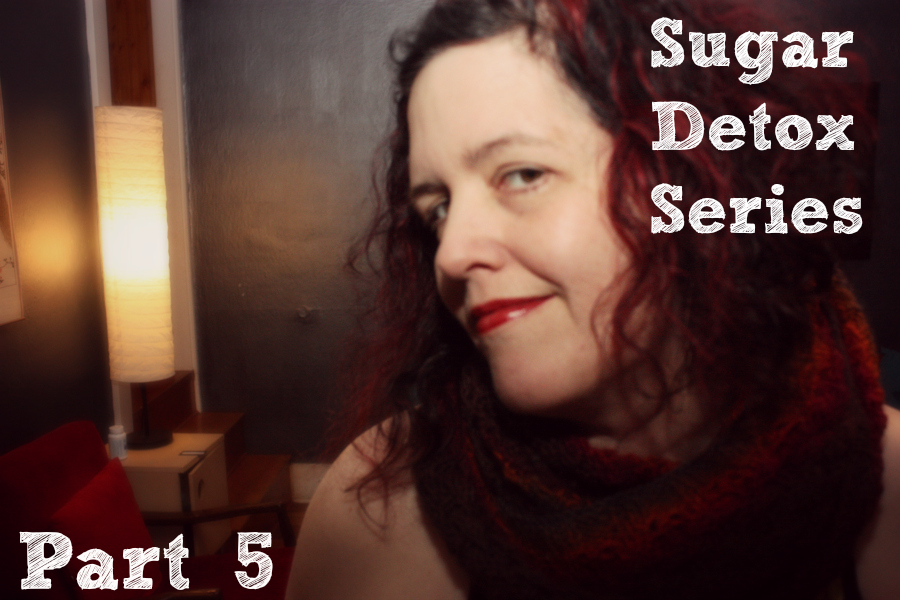 I went to my doctor recently and she checked me over. She told me that I'm doing remarkably well at managing my celiac disease. I asked her what she meant. She said most people with celiac disease have a transition period of a year to five years of figuring out what they can and can't eat, what level of cross-contamination affects them, what doesn't, etc. She said she recommends and offers referrals to people with celiac disease or any autoimmune digestive disorder to work with a nutritionist or other food/gut specialist. She said people with celiac disease need to figure out their individual eating plan and most people don't have the time, attention or knowledge to do it on their own, so she was really impressed that I had found my own nutritional therapist without receiving a doctor's referral.
At this appointment I found out that I no longer have chronic asthma, which I've had for most of my life. Last year when I went to the eye doctor, I discovered that my right eye has returned to 20/20 vision. My left eye is still a troublemaker, but what this means is I have 20/20 vision again. I asked the eye doctor about this and she said that both diabetics and celiacs can have changes in vision with dietary changes. I was basically both of those, so I had some big changes with my vision.
I feel like I'm the newfangled six million dollar woman, but I'm not being rebuilt with technology, I'm being rebuilt with food. Each change in my food world seems to have direct effects on my functioning and these changes affect so much more than my formerly unhappy, distended belly – I'm healing systemically. It's all connected. My flesh vehicle is performing better and better.
I know I'm changing my life with food. I'm not mad that I can't eat regular bread – I'm way past that. I'm not sad that I can't sit down and devour or even nibble on most baked goods. Life is way too short to be focused on what can't be. I'm much more interested in what can be. What I can do. What I can eat.
I wish it was easier, but the more great foods I make and eat, the more I share on my blog, the more I think I make peace with this whole situation.
I think the silver lining here is that I love cooking more and more by the day. It's meditative. The more you do it, the more it becomes a language that you can interpret even from a cookbook and then change to make it to your own liking for totally customized eating. What a privilege!
So much of what I'm sharing here is really related to first world problems. I should be so lucky to eat food that works with my body. I am lucky to be healing. Lucky to have health. And I know that I'm even lucky and privileged to eat regularly at all. Every time I start to feel sorry for myself, I kick myself out of that space. I remind myself that I get to eat and I'm healing – there is no need to feel sorry, and then I get back on track with the success of it all.
I cook delicious, healthy food, I eat great food, and I am able to feel good. What a privilege!
Speaking of what I can eat and delicious recipes, I thought I'd share with you my original recipe for mayo and Caesar dressing, which I've been practically living on and loving!
So, the way these recipes work is first you make the mayo and then you use some of it to make the Caesar dressing.
Freshly Homemade Mayo
2014-02-09 08:52:59
Did you know that most mayonnaise that you can buy in the store have weird additives to preserve the food? If you make this mayo you'll avoid all the additives. It's both healthy and tastes great!
Ingredients
4 egg yolks
2 tbsp fresh squeezed lemon juice
2 tbsp Dijon mustard (gluten-free and sugar-free)
1 cup hazelnut or macadamia nut oil
1 cup olive oil
Instructions
In a stand up mixer or using an immersion blender, blend egg yolks, lemon juice and Dijon mustard. Blend until evenly mixed and bright yellow - 30 seconds to a minute. Very slowly, begin adding nut oil 1/4 cup a time, pouring as little in as you can until it thickens and then adding more. Then add another 1/4 cup very slowly and so on. Once you have all of the nut oils incorporated add the olive oil.
Notes
• This recipe uses more olive oil than most homemade mayos do. I did this to cut down on costs and to yield more mayo.
• Use good oil when making this. There is no point to making mayo from scratch if you're using crappy oils.
• You can add garlic to this to make garlic mayo, or when you're done making the Caesar dressing you can throw a little of the Caesar dressing in with the mayo to kick it up another level.
Jen Neitzel http://www.jenneitzel.com/wordpress/
Freshly Homemade Caesar Dressing
2014-02-09 09:12:36
Serves 6
Try this gluten-free sugar-free dressing. It has no additives like the ones you'll find in the store and if you've never made your own dressing before you'll be blown away at how much better fresh dressing tastes.
Ingredients
3 garlic cloves
3/4 homemade mayo
5 anchovies (I use the anchovies that are in the squeeze tube)
1 tbsp Dijon mustard
1 tbsp freshly squeezed lemon juice
6 tbsp grated parmesan cheese
salt and pepper to taste
Instructions
Use a food processor or blender. I use my Vitamix for fastest results. Add garlic, mayo, anchovies, mustard and lemon juice and blend/mix. Add salt and pepper to taste. Once the dressing is thoroughly incorporated add parmesan cheese by stirring with a spoon or fork (bigger pieces of parmesan cheese taste great in this dressing). Refrigerate for 1-2 hours.
Notes
• This recipe only takes a short time to make, but tastes best if it is refrigerated for an hour or two before use.
• If you're a big garlic person add more garlic. I've added up to 6 cloves of garlic and it tastes great, but you must LOVE garlic to add this much.
• This dressing tastes so great I add it to almost everything.
Jen Neitzel http://www.jenneitzel.com/wordpress/
Hope you try these recipes because they are so tasty!
That's all from me for this week, but I'll check in again on the blog periodically about how I'm maintaining a lower sugar lifestyle.
Stay warm everybody!
Comments
comments