Sometimes you have to work really hard and sometimes you don't. I feel like I've spent most of my life on the hard-working end of things. And, sometimes, just sometimes, it all works – but I'm getting ahead of myself. I bought a banjo a couple of years ago. Once I played it, I knew it wasn't the right instrument for me, and I asked for a ukulele for Christmas 2012.
My goal was to learn a few songs on the ukulele.
Songs that I could sing along to and that I could groove to. I love to sing and thought playing an instrument along with singing might be fun.
Around this time I was – and still am – enrolled in some of the best exercise classes I've ever taken. I have met a lot of great people in these classes, but there happened to be two other ladies in the class, Brenda and Sami, who had both recently received a ukulele as a gift as well.
Synchronicity
Brenda mentioned in class one day that she was going to take ukulele lessons, and Sami and I jumped on board. First we took classes through Portland Parks and Rec, called Ukulele Fever! And we caught the fever really bad, so we moved on to Artichoke Music classes, where we took Ukulele 1 & Ukulele 2. But, we still wanted more, so now we're doing private group lessons, just the three of us with our teacher, Steve Bradley.
Photos from various classes and lessons together
It's so great to learn with a group of people who know all the same songs that you do and have all the same knowledge you have about the instrument. It's like we're going up musically together. This is really how I ended up in a band called The Fleas. We weren't try to be a band. We were just trying to learn an instrument, and then we were offered a gig, so we needed a name.
The Fleas
The word Flea is associated with the ukulele in many ways. In Hawaiian the word for ukulele means jumping flea. Then there is the way you tune a ukulele: the four strings play out the notes to "My Dog Has Fleas" (G, C, E, A). Also, the variety of ukulele that I play is called a flea ukulele. So the name seemed quite natural.
Singing For Our Supper
We have our first gig next Tuesday!
March 25th, 2014 – at the Delta Cafe 4607 SE Woodstock Blvd. in Portland Oregon. We're playing from 7-7:30 and again from 8-8:30.
We'll be playing in the bar area, by the bar entrance.
All ages are welcome, and kids can be in the bar area until 9 pm.
I got the word from my good friend Anastasia, who manages the Delta, that there will be all-day happy hour – with food and drink discounts – featuring a $5 ginger and whiskey special, known as the Outlaw.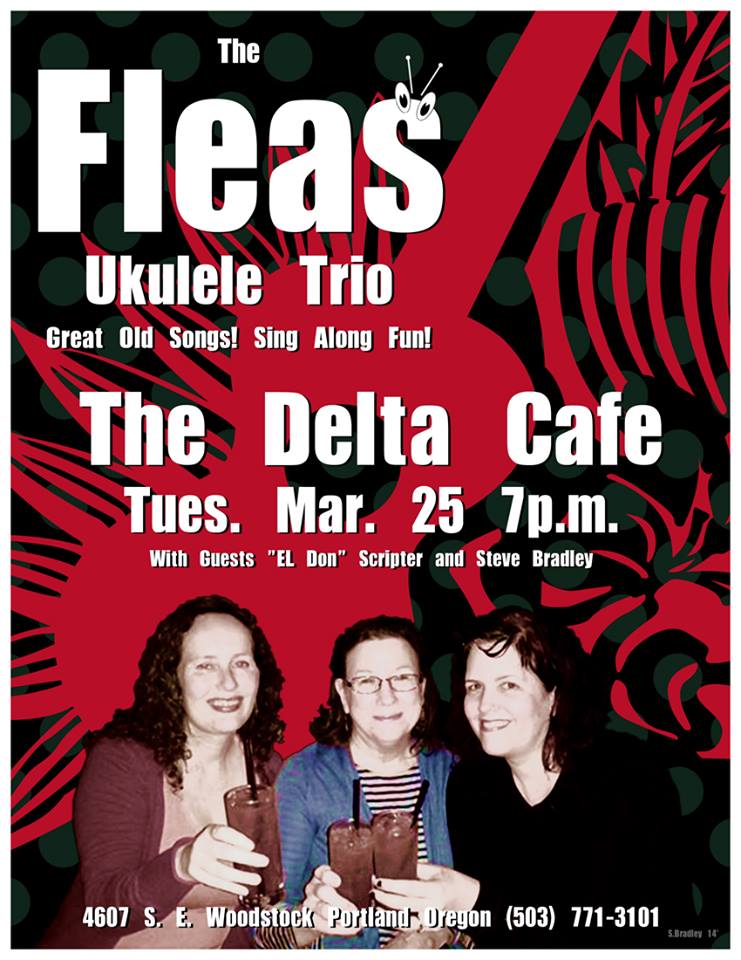 Our teacher made this rad flyer for us without us even asking him to and he's been sharing it on social media to get his people to our show! So generous! I feel like a better title for him is teacher/mentor.
Come on by, have some dinner or a drink and check us out!
We'll play our ukuleles and sing for our supper along with Don, Sami's husband, and Steve Bradley, our music teacher. Some people have asked us what our sound is like. I'm not even sure we know that yet. We're new enough that we're still figuring out what songs we like to cover and how to stylize individual songs, but what we lack in musical styling we make up for in passion and humor. We're a pretty wacky group of ladies, we love our ukuleles, and we love playing together.
Trust me, I know we are way too much! (And we love it!)
Yep, sometimes things are really, really hard, so when you are just goofing around and having fun, you don't expect much. You know that when you try anything new, a belly flop, a clumsy misstep, and even sometimes nothing, can happen. And sometimes, even with some fumbling, something bigger happens, and then in turn your vision gets bigger.
Trying something new can open you to aspects of yourself that you didn't know you wanted. Things that you didn't know or you didn't believe you were capable of.
I don't know what's in store for this new fledgling band, but we've already exceeded my expectations and the three of us are all having so much fun!
Psst: try that thing that you've always wanted to try. Discover new areas for your capabilities and talents.
(You'll be glad you did.)
Comments
comments