When I was a kid, my family rarely owned a camera and when we did, it was the cheapest one available. Even if we owned a camera, my mother was too exhausted most of the time to ever snap a shot. I'm not even sure she would have wanted to capture the life we were living then. Times were hard and so was photography.
Today, between my iPhone and my Cannon Rebel I can take photos that are a totally different level from the crappy cameras I had in my childhood, and I really enjoy photography.
I think it's a little sad that so much of my childhood wasn't documented, or that if there were more photos at one time, they weren't kept. Most of the time back then our lives were too crazy for things like photo preservation.
Recently, however, I've realized that it's likely I'm committing the opposite offense. I take tons of photos and most of them stay in my camera and then end up on my computer never to be seen by anyone but me. I think we all do this – photograph the hell out of something, then pick one or two to share on social media and then the rest stay in your computer where you forget about them. And, worse yet, I haven't had a photo printed in years.
What's sadder? A photo that was never taken, or a photo that was taken and wasn't shared or printed or seen again? I'm not sure. Both seem a little tragic.
Today I'm going to share recent photos from my camera that I love and want to share, but I'm not sure the best way to share them other than on my blog along with a little story.
Sami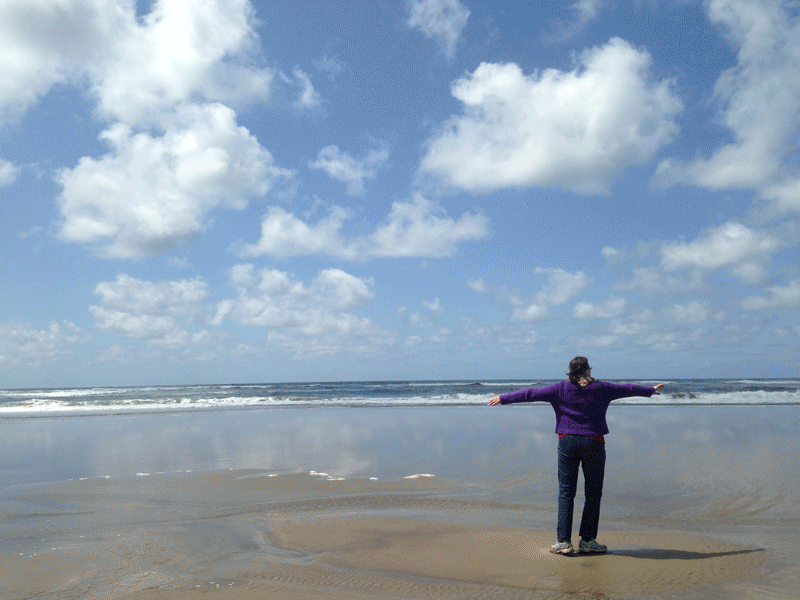 Everyone should know a person at least 20 to 25 years older than themselves. For me it's my friend Sami. She is 23 years older than me. She's in my band, The Fleas, and I feel really lucky to know her for so many reasons. She's an expert at most things as far as I can tell. She has a fantastic sense of humor and can convey her zest for life in a simple glance. She loves to learn and she's a doer – her hands and mind are always working on something. She began learning the ukulele at 64 and has spent the last few years helping her husband kick cancer's ass, which they did. Some couples might wait nervously during cancer treatments, but Sami and Don are way too fun and strong for that. They destroyed cancer with music (Don plays the harmonica and guitar), laughter, medicine and togetherness – at home, at the hospital and everywhere they went. Although Sami is 66 in human years, I think she's no older than 15 or 20 in spirit.
We all get wrinkles and/or other bodily nuisances like arthritis as we age. When we are young, as women, so much of what others notice and mention about us is how we look. After a while we begin to see how we look as a way that people value or notice us. As our bodies shift with age, this can be hard on our vision of ourselves and we wonder what others will think of us with wrinkles, age spots and our "broken-in" bodies.
Hanging out with Sami has been great for my self esteem around aging. Those little lines around her eyes and mouth to me are important information about her humor and joy in life. I think it's even part of what makes her facial expressions so powerful and how she can convey so much with a simple look, because it's not just her eyes and mouth involved in the expression – her entire face can tell a story with a look.
Old enough to be an expert at so many things, but young enough to still feel like a kid, with the face of youthful joy and seasoned wisdom all at the same time? Sounds pretty good and all I have to do is make peace with these paths forming around my eyes and mouth? It doesn't sound so bad, right?
Knowing people older than you and seeing them living so well is a really good thing. Sami is magnificent.
Cinda
I hosted a party for my friend Cinda's 50th bday party recently and I took a bunch of photos, but this one is by far my favorite. Her friend Jessica did a few frowny photos in front of the smile photo booth I set up, while Cinda beamed at the camera, which cracked me up. My friend Julz brought over the rad fox mask, which I think Jessica wore the best. We had a lot of fun that night singing and celebrating Cinda. It was Cindasational.
PRIDE!
Portland Gay Pride Parade, 2014 – in classic Oregon style, it rained, but it was still a fabulous parade. It was so fabulous, in fact, that I decided to create a little flip book, which I set to music.
Something is under the bed!
A few years ago while helping my son clean his room, I reached under his bed and pulled out a mouse trap with a dead mouse in it. Then I realized I was holding the whole thing by the tail. I screamed and ran around the house like a crazy person, because I was so freaked out. You would think I would have learned my lesson and would never look under my son's bed ever again, but parenting isn't for wimps and of course we braved the terrifying things that were hiding under his bed.

This photo is from a more recent cleaning. I told my son to clean his room. It looked pretty good. Then I caught a glance at the mess under his bed. My son, a friend and I all cleaned out the unbelievable mess under my his bed. I think that even the things that go bump in the night would be terrified of this. Harrowing!
Sheesh, that is a lot of stories and photos! And, that's just the last few months of photos I didn't plan to do anything with. Most of the photos I shared were from my phone, except the one from Cinda's party, which I took with my Cannon Rebel.
It was really fun for me to revisit and share each of these collections of photos and stories with you. Now I have questions for you: What little moments from near or distant times are lingering somewhere on your camera? What will you do with them?
Comments
comments