Recently I went away with some friends for a 4 day 3 night Palm Springs vacation.  There were 7 of us ladies on the trip and it was an especially funny, giggly group of women, so the fun didn't stop the entire time.  Going away reminded me again of how important it is for me to leave my house to really relax.
When you're a small business person who works and lives in the same space it's really hard to have downtime in your house, because your work (for both home and business) is always around you.  I'm really thinking about my vacations differently these days – I'm seeing them as a necessary part of my downtime.  One of the few ways that I can really refuel my engine and that's what I plan to share with you here.  The awesome points of this vacation and how you too can get away with your friends.  I'm breaking down the costs and adding links here so that you too can have the snow-bird vacation that I just had if you'd like to.
Our friend Beth is really the mastermind behind this vacation weekend.  She found this amazing house, and discovered it was cheaper to fly into Ontario, CA, which is about 1.5 hours away from Palm Springs.  Our vacay house was a little outside of Palm Springs – this also helped to keep costs down.
Beth with a cocktail – poolside
So the house was $650 for 4 day, 3 nights.  The room slept 7 so we each split this.  In our group some people stayed longer periods of time than others did, so the costs where slightly different for various people in our group.  For the sake of ease, I'm going to just say that we split the cost 7 ways = $92.86 each for room. The flight was $240 each round trip and we also had a rental car for 4 days, which cost $280.  There was another car that our friend Kim brought with another friend Ali and one friend came to the vacation separately, so 4 of us split the cost of the rental car = $70 each.   We cooked in almost every meal so we saved a lot of money that could have spent on going out to eat.  I'm not going to include the costs of eating only because I think this will vary so much from person to person and group to group.  So the total cost per person for the vacation without food was: $402.86!  This is a pretty affordable vacation.
Hanging out in our outdoor living room with cocktails and giggles.
Here's the thing, I'm new to taking vacations with friends. For years I felt I couldn't afford it.  I didn't have the extra funds, or so I thought.  Now that I'm getting into vacationing with friends, I'm seeing that I make choices all the time with my money – a couple of fancy coffee drinks here, a few pricy dinners there, a new pair of shoes or three and before you know it, bam, you've spent as much as you would on a vacation.
This is my new focus: spending my money the way I want to live my life.  A vacation is way more important to me than going out to dinner and new shoes, so I am working on spending my money accordingly.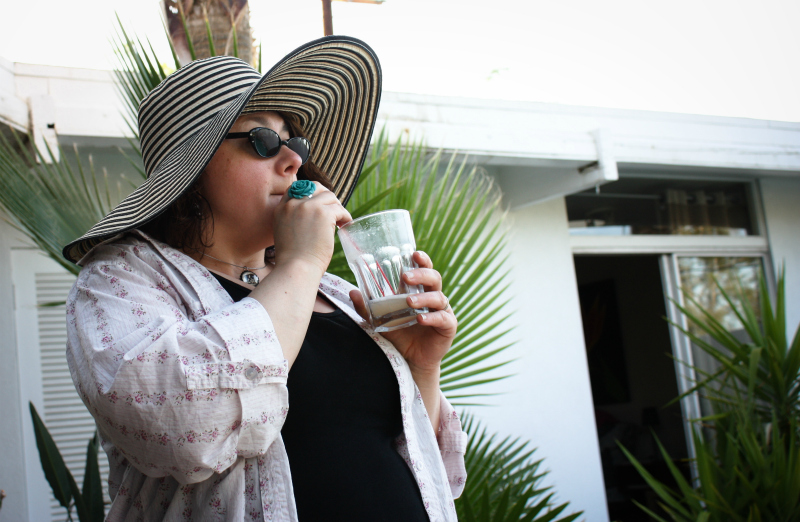 Hilary rocking a cocktail and a big hat.
So this is pretty much what we did – we drank cocktails, giggled, swam, wore big hats and were able to just BE for 4 days.  It was so lovely.
Kim looking lovely
This woman, Kim, is really the reason for the get away.  She's one of our best friends and she's moved away to L.A. so we must keep the fun going in a vacation capacity.  I call her Rock & Roll Kim and she's so special.  There will be many more vacations with her in the future because missing her is terrible and vacationing with her and other friends is so fulfilling.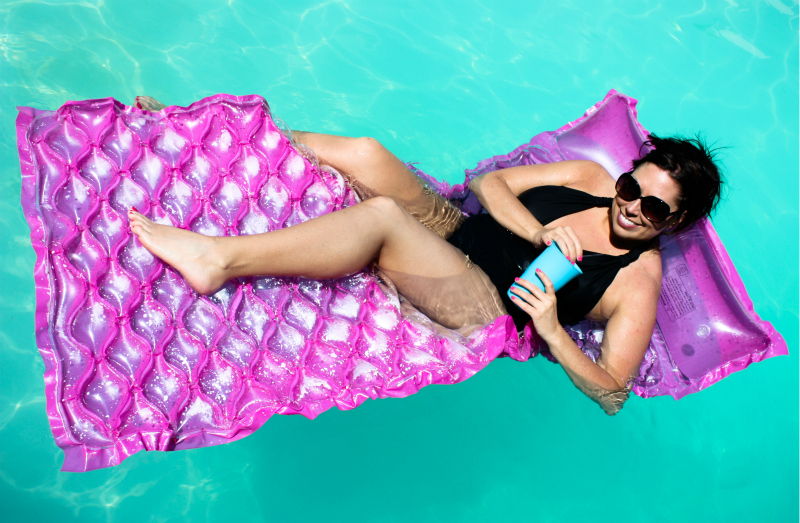 Stephanie ready for her close-up.
Here's another one of the ladies I went away with.  She's great too.  Actually, all the ladies were amazing!  It's nice because as you get older I think you really find more and more of a need for lady-friends.  I feel very fortunate to have many dear women in my life.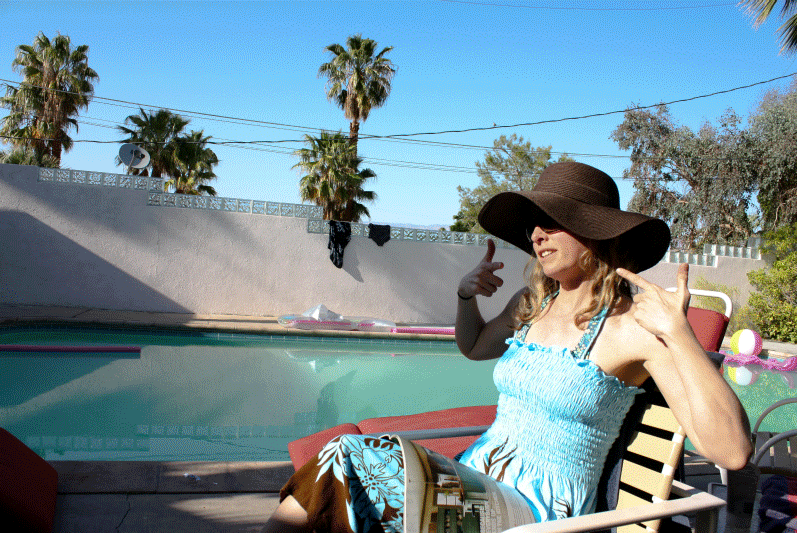 This was one of those moments where we decided to have a dance party in our chairs.  Good times. Photographic evidence that one of the ladies MAY have touched another's boob, but what happens in Palm Springs stays in Palm Springs.
The one meal we decided to go out for was to The Parker.  Here we are all dressed up in our Sunday brunch finest ready to eat, drink and be merry.
Yes, it looked this cool and the food was amazing.  It's pretty much Mecca for fag hag ladybrunchers like ourselves.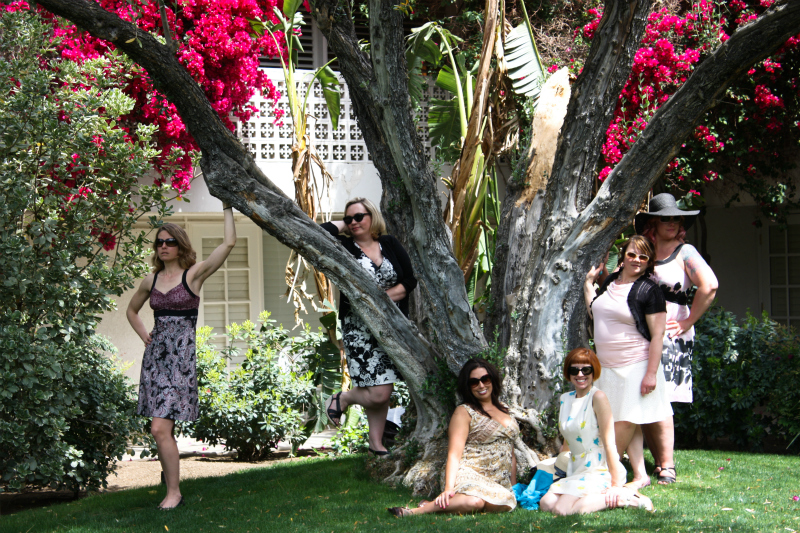 We wandered around the grounds after brunch and snapped a couple of shots.
Here's one with me in the shot.  I cannot wait to go back there again.
I had to include this one because it really shows off how hot both Stephanie and the Mid-Century Modern decor are.  So cool!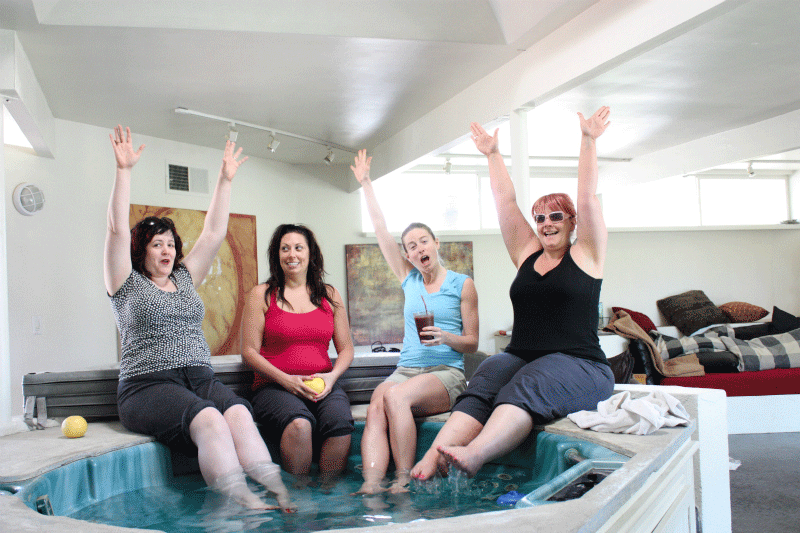 Here we are getting silly in the hot tub, which – yes, as a matter of fact – is located in the living room!  Beth was calling this move the cocktail roller coaster.  The sound effect that goes with this is, "Wheeeee!"
Here's a few shots of our vacation house.
I'm already thinking about my next vacation.  How about you? Any ideas on where you'll be taking a vacation to?  Maybe Palm Springs?  Which friends will you invite?