Last month I helped organize an event called Mixer Match, which was hosted by I Heart Art. I Heart Art is a great organization that helps makers get a leg up in business, by offering professional development workshops and events like Mixer Match.
So what is Mixer Match? It's a speed networking event that happens twice a year, once for artists and galleries, and once for crafters and boutiques.  The idea is to have artists pitch a small sampling of work to business owners or galleries who might want to exhibit or sell their work, can give feedback about the pitch, or have suggestions for other places to sell artists' work and so forth. In many ways you can think of Mixer Match as an educational trade show that doesn't require huge fees for admission and that you don't have to create tons of work in advance to participate.
The last Mixer Match happened on April 26 at Design Within Reach. I was pretty happy with the turnout and the overall flow of the event and really, I have a couple of people to thank for helping make this possible. You see, I'm the event coordinator with I Heart Art so it was my job to act as the lead organizer for the last Mixer Match, but in truth I didn't have to do all that much because I had a REALLY strong team.
I was really fortunate to have both Deenie Wallace and Jolie Griffin as my core team for the event. This was the second annual visual artist Mixer Match and with Jolie was our artist contact, she really improved the communication and preparation of artists this time around. She made the whole artist piece flow smoothly. Jolie's the kind of person who most of the time has taken care of things before you've even thought of it.
Jolie is the smiley one in the middle.  
Deenie was the the third main organizer of the event. She is also a dream to work with – very hard working and willing to learn and try new things. She managed the galleries, since she is an artist and had many contacts with several local galleries. She was also the volunteer coordinator, and as if that weren't enough, she also participated in the Mixer Match as an artist. She's pretty much a super woman type of woman.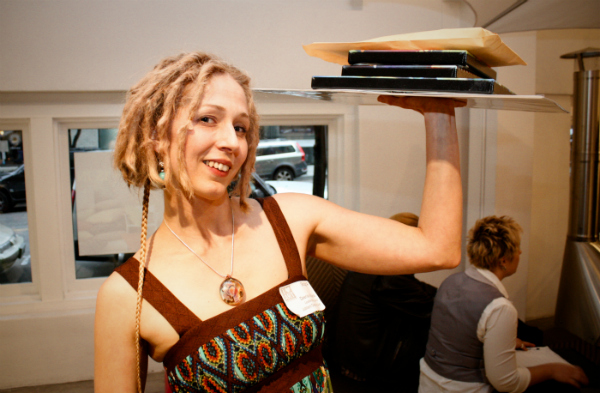 Here's Deenie with her art ready to pitch at Mixer Match.
In addition to the main organizers we had a handful of other I Heart Art Leadership Council Members that also helped out. There was our ringleader and bullhorn guy, Isaac B. Watson. He managed the countdown of each transition with the help of Rebecca Kerr. The two have been co-chairs for I Heart Art for some time now and are great leaders.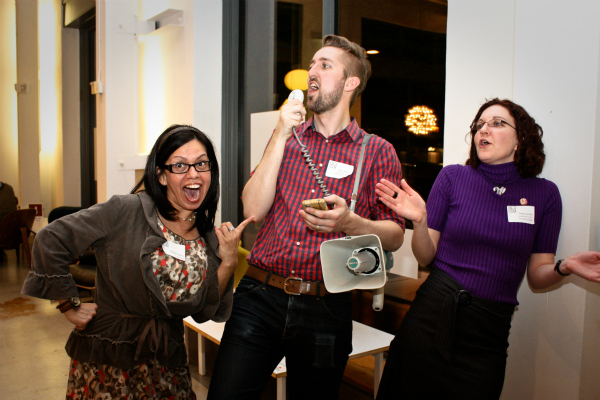 Here's Isaac in the center doing his thing on the bullhorn and Rebecca is standing to his right, cheering him and the crowd on.  To the left is a volunteer who helped us procure beer from the Descuttes Brewing Company.
We also had help from Cheryl Larson. She lent us her editing skills on most of the copy that went out about the event. Her mad baking skills were the icing on the, cupcakes (OK, bad pun, I know). She's another council member, who made the whole thing flow. We are so fortunate to have such a cooperative team who's skill complement each other so well.
Cheryl and her awesome cupcakes!
We had a lot of help from the fabulous Cathy Pitters.  She loves to throw parties and is the food planner for I Heart Art.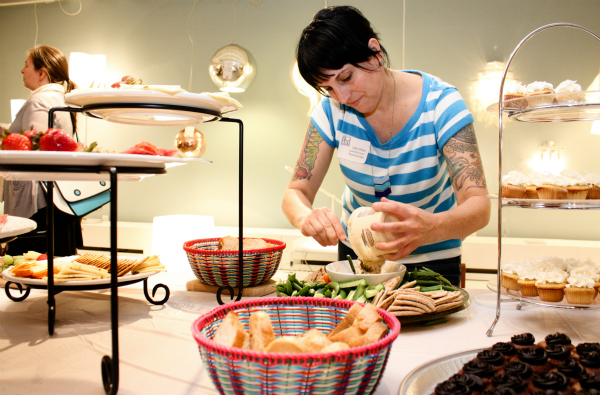 Cathy preparing food for Mixer Match.
Kirsten Moore helped out with marketing the event. She's our Twitter expert, and she helped us line up a few of the galleries for the event. She also knitted her dress – isn't it awesome?
Kirsten chatting with one of our Super Stars, Jill Bliss.
We ask a handful of people who are experts in art or business to be Super Stars at each Mixer Match. The role of a Super Star is to mingle, give advice and to add an extra fabulous layer to the event. In addition to having Jill Bliss along with a number of other Super Stars that night, we were fortunate to have Jena Coray of Miss Modish. Jena advises creative business people on how to effectively market and pitch their business.
That night, in a strange turn of events, one of the galleries didn't show up so Jena agreed to fill in as someone who the artists could practice their pitch with. Many of them gave her their business card and she followed up with many of them to offer advice and help, because she's awesome like that.
Jena listening to Deenie's pitch during Mixer Match.
As I mentioned earlier, it really requires team work to put on an event like this. Here's a photo of most of our team.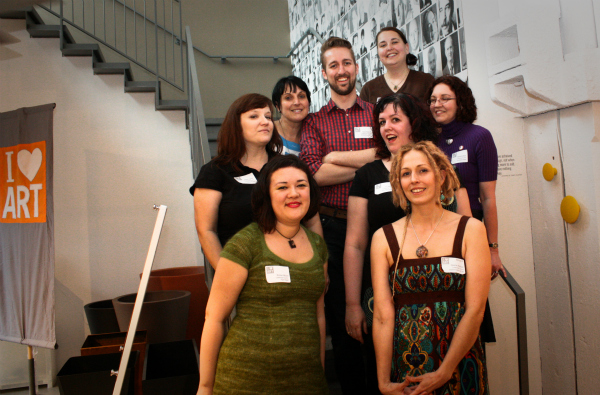 From left to right, nearest to farthest: Kirsten Moore, Deenie Wallace, Cheryl Larson,
Jen Neitzel(with my goofy mouth open), Cathy Pitters, Isaac B. Watson, Rebecca Kerr and
Jolie Griffin. Christine Claringbold and Shannon Conrad couldn't make it that night.
It's pretty awesome to have a group such as I Heart Art – that is contributing to the community by educating creatives in the ways of business.  I for one, am really glad to be a part of this group.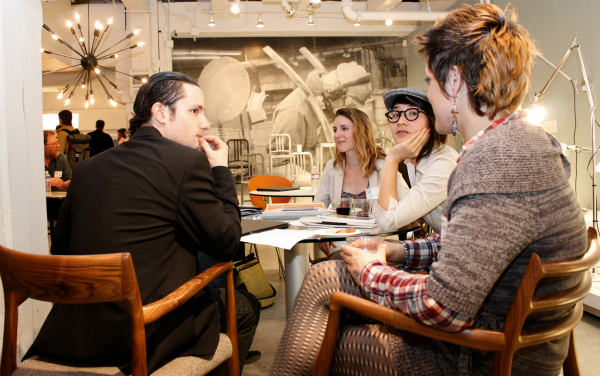 Artists waiting for Mixer Match to start.
Pat from Land
Catherine from Bush Barn Gallery in Salem
Betsy and Will from Betsy & Iya
Isaac strutting his stuff.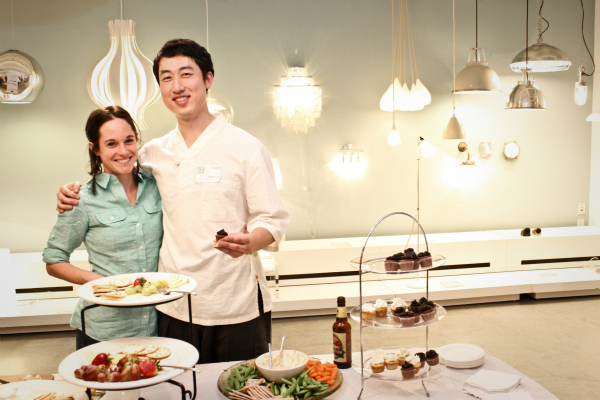 Artists enjoying the spread.
If you'd like to learn how you can get involved with I Heart Art
check out our workshops or become a volunteer.